Celebrating over 30 years of fresh style, fun and fancy!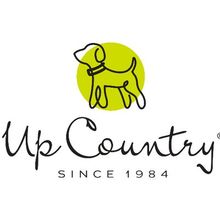 Belly Rubs Biscuit Bar & Spa is proud to carry Up Country in Ashburn, Virginia. When Alice Nichols started Up Country in 1984, the only dog collars available were nylon or leather with little or no decoration. Alice designed the first 6 Up Country collars and people thought she was crazy; no one would buy them and they were too expensive and fancy for dogs who roll in the mud. Times have changed and now Up Country brings a sense of style to all aspects of your pets' life with over 120 collar designs and dozens of lifestyle accessories.
Dog Supplies
Dog Beds, Dog Collars, Dog Mats, Dog Harnesses, Dog Doorbells, Dog Key Rings, Dog Leash Holders, Dog Toys.
Come visit our dog grooming salon in Ashburn, VA specializing in quality grooming, a dog bakery, and all natural dog treats and supplies.