Grooming Salon
Our Ashburn, VA Dog Grooming Salon prides itself on being sought after for our personalized care. We provide high quality styling services to aid in the beauty and well-being of your dog. Our full-service grooming salon uses the highest quality natural, eco-friendly and biodegradable products for all your dog's grooming treatments.
At Belly Rubs we offer individualized grooming which is done by appointment only. We work on one pet at a time to ensure we are giving each client the personal attention they deserve. Safety is our number one priority and we believe in offering the highest quality care to each pet we serve.
We offer the following Grooming Salon Packages
(Appointment Required)
Spa Bath:
A professionally bathed pet leads to a happier, healthier and more comfortable dog. This service is perfect for the short coated and shedding breeds as well as a little "pick me up" between Full Service Spa Treatments.
Our Spa Bath Package Includes
Massaging bath with all natural shampoo & conditioner
Hand fluff dry & brushing of coat
Normal de-shedding of undercoat*
Nails trimmed & filed, hair removed from pad area
Ears cleaned
*excessive amount of undercoat resulting in more than 15 minutes of active de-shedding will result in an additional fee
Mini Spa:
The perfect treatment for dogs who don't require a full body haircut, but just a little neatening up. Also a perfect option for in between grooms to keep the hair out of the eyes and the sanitary region clean.
Our Mini Spa Package Includes All The Features Of The Spa Bath PLUS
Pads and feet are trimmed up
Sanitary trim
Light trim around face & eyes
Full Service Spa:
The ultimate spa treatment that gives your pet the unique style you desire and contributes to healthy skin and coat.
Our Full-Service Spa Package Includes All The Features Of The Mini Spa PLUS
Hairstyle as specified by owner
Special Offers
Service Dogs: All service dogs with ID (guides, hearing, assistance, police & military) always receive 50% Off of Full Service Packages!!
New Puppy Special: Puppies deserve a little special attention for their first grooming appointment and they will surely get that from our team. Call our team to discuss your puppy's age and coat so we can help you pick the best package from our service list. Mention the "New Puppy Special" when you call to schedule your appointment and we will give you $10 OFF your puppy's first appointment to help ease all of those new puppy expenses during the first couple months of bringing home your new furry family member.
New Client Special: We know you have choices when it comes to who you trust in caring for your pets and we want to thank you for taking the time to consider our team. Mention the "New Client Special" when booking your first appointment to get $10 OFF your first appointment as our way of saying "Thank you for choosing us to help you care for your pet!"
Grooming Surcharges
De-Skunk Treatment: Fee $25
We will use specially formulated products to help rid your pet of the unmistakable odor that accompanies an encounter with a skunk.
Dematting or Shavedown Fee: $15 per 15 Minutes
If minor matting is found and you request us to brush them out, we will use special products and extra time to safely and painlessly remove the mats. If excessive matting is found we will carefully remove the mats by slowly shaving the coat off, please note an excessively matted coat requires extra time to shave down and will incur the extra fee.
Flea Treatment: Fee $25
Required surcharge to any pet that comes into the grooming area with fleas to ensure the health and safety of our customers and staff. If you suspect that your pet has an infestation, please treat the issue prior to coming in for your grooming appointment.
Special Handling Fee: Fee $5-$20
Fee to cover additional grooming time to ensure safety for our clients who require that extra special attention.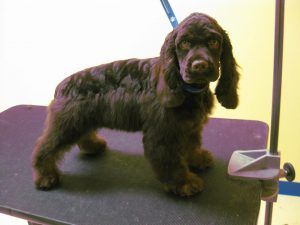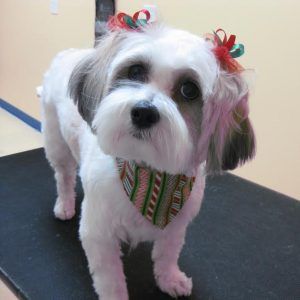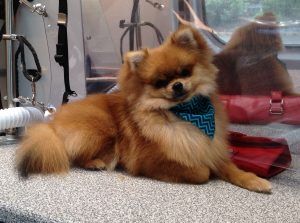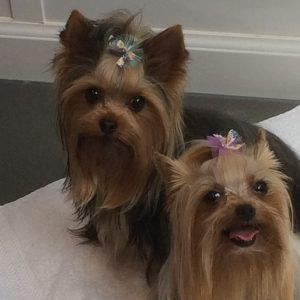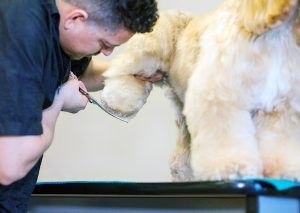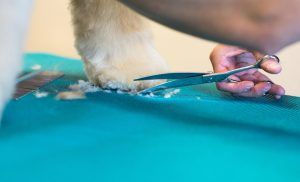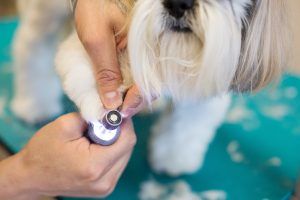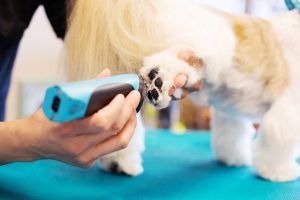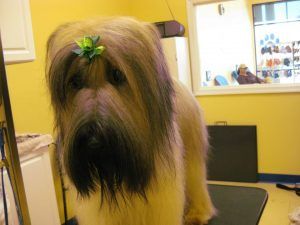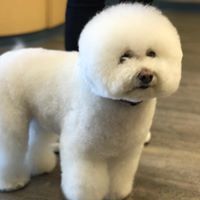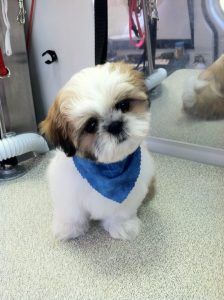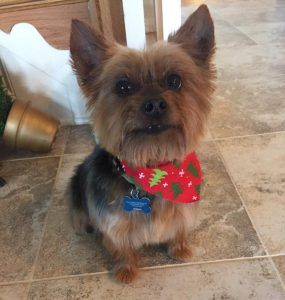 Come visit our dog grooming salon in Ashburn, VA specializing in quality grooming, a dog bakery, and all natural dog treats and supplies.