Self-Serve Dog Wash & Nail Trims
Washing your dog at home can be quite the adventure! Chasing your pooch all over the house to get them in the tub, keeping them from jumping out and running all over your house with shampoo flying and then the huge clean-up at the end from all the fur left behind. Avoid that mess and reduce your stress by coming to Belly Rubs. We make Fido's bath time fun and convenient!
Self-Serve Dog Wash Options
Just The Bath: Fee $15
We have professional, waist-high tubs so you don't have to bend over to bathe your dog. The tubs have a step leading in to make it easier for larger dogs to get in and out. You get your choice of one of three all-natural and chemical-free shampoo/conditioner combos. We provide you with an apron to stay dry, rubber scrubbers to massage your pet while you get him clean, brushes & combs, towels and a pet dryer.
Bath Plus A Pawdicure: Fee $25
All of the features of Just The Bath plus one of our trained staff members will trim and file the nails and clear the pads of any fur.
Self-Serve Dog Wash Enhancements
Ear Cleaning: Fee $5
Gentle ear cleansing by one of our trained staff members.
Tooth Brushing: Fee $5
A trained staff member will brush your dog's teeth using tooth gel created for pets. You get to keep the toothbrush to take home for at home care.
Bandana: Fee $4
Pawdicure: Fee $15
Just need the nails done by a professional? One of our trained staff members will trim & file the nails and clear the pads of any fur.
Self-Serve Specials
Belly Rubs Suds Club: After you purchase 5 Full Price Self Serve Dog Washes, your 6th one is FREE (no cards needed, our nifty computer system tracks it for you).
Self Wash Wednesdays: 50% Off our Just The Bath and Bath Plus A Pawdicure Options
Service Dogs: All service dogs with ID (guides, hearing, assistance, police & military) always receive Just The Bath for FREE!! All other self-wash enhancements are 50% Off!
Adoption Special: As our way of saying "Thanks for saving a life!" we want to give you the first Just The Bath for FREE!! Just show us the adoption paperwork dated within the past month to take advantage of this offer.
House Rules
All dogs entering Belly Rubs must be up to date on their rabies vaccination.
All dogs must be on a 6-foot or shorter leash or in a carrier at all times. Retractable leashes must be locked at a length of no longer than 6 feet.
Dogs must never be left unattended while in our facility.
Dogs suffering from a flea-infestation must be treated prior to entering Belly Rubs.
Children under the age of 16 years must be supervised by a parent or guardian at all times.
Last wash and all other walk-in services must begin 60-minutes prior to closing.
If other clients are waiting to use the self-serve wash, we kindly ask that you limit your time to 30-minutes so we may accommodate all of our clients' needs.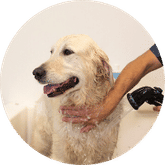 Self-Service Dog Wash
Our self-service dog wash permits you to stand in comfort at the dog washing station, and we provide all the things needed to give your dog a professional wash.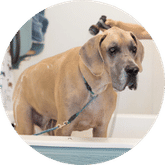 Dog Wash & Grooming
No scheduled time needed. The last bath is one hour prior to closing time. We are open today until 5:30 PM.
Come visit our dog grooming salon in Ashburn, VA specializing in quality grooming, a self-service dog wash, and all natural dog treats and supplies.